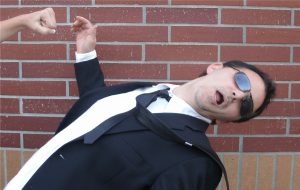 MONDAY to FRIDAY -- 06:00 AM - 12:00 PM
THIS WEEK WOULD HAVE BEEN KURT & COURTNEY'S 28TH!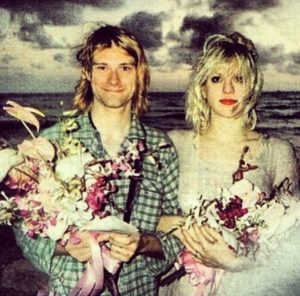 Courtney Love has shared some intimate reflections and a photograph from her wedding to Kurt Cobain to commemorate what would be the couple's 28th anniversary.  Posted on Instagram earlier today, the 1992 photograph shows the pair in Honolulu, Hawaii, with the caption: "28 years ago, we got married, in Honolulu, on Waikiki beach."  Smiling Kurt pics are a rarity… this one is a winner!
Happy Anniversary Foo!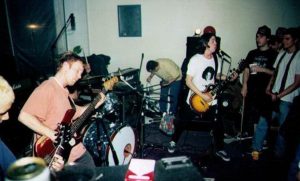 Foo Fighters are currently celebrating their 25th year as a band and to mark the impressive milestone, Dave Grohl posted the most epic throwback photo.This week, Foo Fighters uploaded a picture from their first-ever live performance at a keg party in Seattle.The first half of the caption reads, "There is a moment in every band's history when you decide it's time to load the gear out of the practice space and bring the music to the people for the first time. This was ours, 25 years ago today. Keg party at the Marine Store, Seattle Wa…."In the photo, you can see a young Dave Grohl at the helm of the band, guitar in hand and a small crowd watching them. "25 years later, the fear and stage fright may have faded, but the love of making music with my friends is stronger than ever. Happy anniversary, fellas," the end of the caption read.
To commemorate just how far they've come in a quarter of a century, Foo Fighters will embark on a tour this spring retracing their steps in the same cities of their first-ever 1995 tour. Tickets are on sale now and you can check out the dates below.Fans attending the shows will also get the first look at Grohl's new documentary, What Drives Us.Foo Fighters 2020 Tour Dates:April 12 Phoenix, AZ @ Talking Stick Resort Arena

April 14 Albuquerque, NM @ Santa Ana Star Center

April 16 Oklahoma City, OK @ Chesapeake Energy Arena

April 18 Wichita, KS @ Interbank Arena

April 20 Knoxville, TN @ Thompson-Boling Arena

May 10 Green Bay, WI @ Resch Center

May 12 Grand Rapids, MI @ Van Andel Arena

May 14 Cincinnati, OH @ Heritage Bank Center

May 18 Cleveland, OH @ Rocket Mortgage Arena

May 20 Hamilton, ON @ FirstOntario Centre

Photo: Getty Images
Star Salary Calculator (depressing!)
Real Life Meth Guy Looks Like Walter White!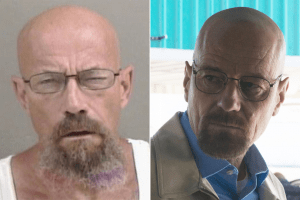 The police in Galesburg, Illinois are looking for a 50-year-old guy named Todd Barrick . . . who looks REMARKABLY like Walter White.  And he's wanted for meth possession.  Cops will Visit every fast food chicken place in ILLINOIS to find the guy!
Nice Hiding Place, mastermind!
Authorities at a Spanish airport were a bit suspicious of this guy flying in from Columbia… they thought he might be hiding a block of drugs on him somewhere.  But where?  Where could it be??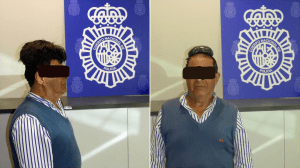 The Insanity Continues!!
These stories keep getting worse… you know the ones, where people's only "crime" is their skin color.  This is the most mind boggling one yet.  A fully uniformed sheriffs deputy in Ohio went into an IRS office to ask a question when the security guard (fake cop) went off the deep end!  Here, watch the vid…
COASST is looking for beach walkers… 
On August 17th from 10am to 4pm (Astoria)  the Coastal Observation and Seabird Survey Team (COASST) from the University of Washington will deliver a free training session for citizens interested in surveying for marine debris. The COASST Marine Debris program is focused on the intersection of science, conservation, and communities. Rather than simply identifying debris, the program characterizes it and measures its abundance in particular zones of the beach. Through an interactive, hands-on workshop, trainees will learn how to collect data that speaks directly to the source and transport pathways of debris, as well as to the potential harm to people, wildlife, and local coastal ecosystems. The COASST training provides participants with the tools to monitor for potential changes in the marine environment and promote stewardship of local marine resources. The training session on the 17th will be held at Clatsop Community College (Towler Hall, 1651 Lexington Ave) and on the 18th at Port of Tillamook Bay (4000 Blimp Blvd., Suite 100) There will be a short break in the middle of each session for lunch, so please bring your own sack lunch, or money to purchase food in the area. Volunteers need NO prior experience with scientific data collection, just a commitment to survey a specific beach at least once a month. Reserve your training spot for either training by calling COASST at 206-221-6893 or by emailing coasst@uw.edu. For more information on COASST visit coasst.org