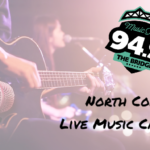 FORT GEORGE BREWERY-ASTORIA
Every Sunday night 6-8… ALWAYS FREE!
March 5th-

Hannah Frances & Joan Kelsey

A virtuosic vocalist, guitarist, composer, and poet, Hannah Frances is an artist of great magnetism and singularity. Her music moves through the wild landscapes of the heart, weaving her inner and outer life through stories of unbridled vulnerability. Frances is known as a spellbinding performer with a tender sensitivity akin to Joni Mitchell, Jeff Buckley, and Adrienne Lenker.
March 12th-Pat Hull (Chico, CA) singer songwriter
"Pat Hull is a singer-songwriter from Northern, CA. When Hull isn't at home with his three children, working on his first book of poetry or teaching non-violent communication and public speaking at Chico State & Butte College, he creates music that intertwines a melodic, soulful, counter-tenor vocal range with a unique finger picking style, creating a dreamy landscape with unpredictable hooks and turns. Most of his songs are played on a nylon guitar, adding a warmth and color to the sensitivity of Pat's song writing. He is set to release his 9th studio album this year entitled 'et al.,' produced by Chris Lynch coming out via Only One On The Mountain Records. This release, as well as his back catalog, showcase layered compositions, songs written for piano, and rich vocal harmonies."
March 19-

 Redwood Revue (Portland, OR) Americana

Redwood Revue brings a refreshing variety of American roots music to the here and now. Influenced by American pioneers from Bill Monroe to Jerry Garcia, Redwood Revue has a solid grasp for roots music with a west coast feel.
March 26-

 Lucas Lawson (Santa Cruz)- Americana

Lucas Lawson & The Unturned Stone is an acoustic americana band from Santa Cruz, CA. They primarily play Lucas's original music that can be compared to Watchhouse (formerly Mandolin Orange), Neil Young, Jackson Browne and The Punch Brothers. Lucas released his debut album "This Dirt" in November of 2022.

With the world as it is today and the majority of Lucas's musical outlet having been oriented around live performance and community gatherings, this recording project was important for him to keep moving forward. Lucas shares "It's also crucial to me that I, as an artist, use my platform to contribute to meaningful change in our world."
LIVE MUSIC EVERY SUNDAY NIGHT AT FORT GEORGE!