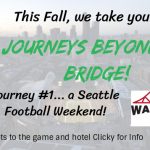 This fall, The Bridge is hooking you up with Journeys Beyond The Bridge… Powered by Warrenton KIA!  Cool getaways to amazing music and sports experiences.
Up first… a Seattle Football Weekend!  You'll be on your way to the Emerald City to check out the Hawks as they take on long time rival San Francisco.  You'll score tickets to the game and a hotel for the weekend.
Here's how it works… STARTING MONDAY, Each day, we'll have a Hawk player name of the day.  We'll announce the name at 8:30 AM and 4:30 PM.  When you know the name, come back here to enter it in.  There's a new name each weekday… the more names you get, the better chance to win! In a couple of weeks, we'll pick out finalists (and hand out qualifying prizes) as we find out who the grand prize winner is for Journey #1!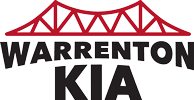 Specific Contest Rules: Finalists will gather at a yet to be determined location on the weekend of 10/26/19 for the grand prize drawing.  Finalist must be present at this event to be eligible to win.  All contest disputes and final rulings are to be settled by 94-9 The Bridge personnel. Please see general contest rules for more information.