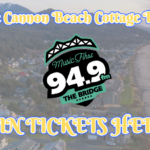 Win free tickets to the annual Cannon Beach Cottage and Garden Tour and celebration!
Tickets are given to tour goers and they pick up their Cottage & Garden
Tour map at 12noon at the CB Museum on day of tour,
Saturday September 10-

 They
are able to take the self-guided tour of Cottages and Gardens from
12noon to 5pm. There are over a dozen cottages and gardens stops on the
map as well as the Coaster Theatre, Haystack Rock Awareness Table, and
other fun surprises like a dig by the Pacific Northwest Dirt Fishers,
cookies, and ponies.

Also giving away…
Garden Tea & Lecture tickets!
To be held at the Cannon Beach Chamber Hall, Doug Kenck-Crispin of Kick
Ass Oregon History fame will be delivering a lecture entitled Beaver
Tales & Treasure Trails. He will highlight a couple of treasure stories
and attendants will get copies of historical maps. He will also share
with tea goers the story of Oregon's beaver money and how it came to be.
Cannon Beach Bakery will provide yummy treats and North Fork 53
Communitea Wellness is brewing a variety of delicious teas. The only
lecture you can attend that might lead to treasure and becoming filthy,
stinking rich.