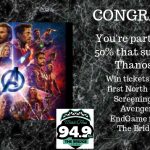 Spoilers suck!  Especially for something you've been anticipating for sooooo long.  The only way to truly avoid Avengers spoilers from your loose lipped friends is to see the movie first!
94-9 The Bridge has snapped our fingers and set up your seats for the very first North Coast screenings of Avengers: Endgame on April 25th.  We have screenings in Astoria and Seaside theaters at 6pm… just let us know which one you want!
Be the first to see how it all ends with 94-9 The Bridge!!