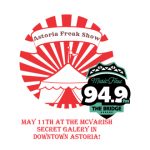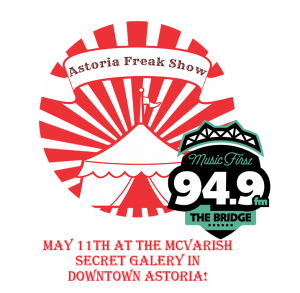 The Astoria Freak Show will be a spectacle unlike anything seen in these parts since the arrival of Lewis and Clark! We'll have freaks. We'll have so many freaks it will make your head spin. Some of the incredible feats of nature and human abilities may include: sword swallowers, human pincushions, magicians, fabulous clowns and dancers, freaky musicians, people with fake body parts tattooed over their real body parts, people with weights hanging from their noses and nipples, people who can solve math problems incredibly quickly, maybe a good rhubarb pie(!!), and so much more.  This is not a show for the kiddies.  Possible future Freak Show productions may be "family friendly".
Clicky Astoria Freak Show for more info!
Tickets are SOLD OUT, but we have a ton to give away on the Bridge!